---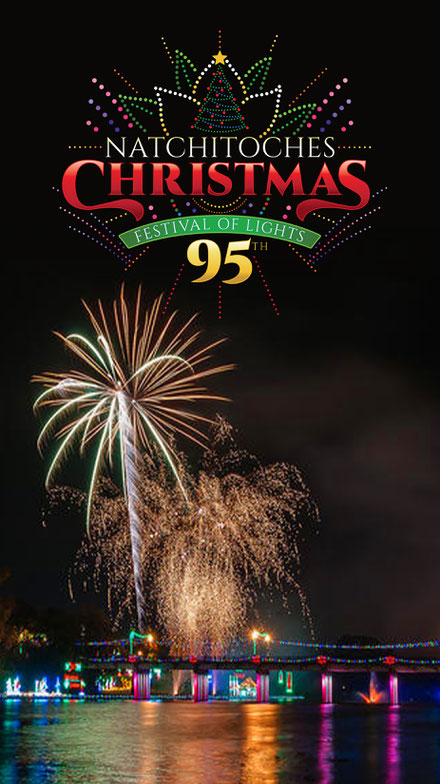 Illuminated Memories Influence A Historic Natchitoches Christmas Festival Logo Update
by Oran Parker, Parker Brand Creative Services
Over the past decade, Parker Brand Creative Services has been privileged to create hundreds of eye-catching and iconic logos for new businesses, developing brands, and refreshing updates to existing entities. It has always been important to us that the brands we create shine out front while taking our role as the creative support behind the scenes. Once in a while, we are invited to assist with a brand update that carries the gravity of history and community expectations. These brand updates often require that we honor the past while appealing to modern design sensibilities. We should always take into account how the logo will be used across various media platforms and print, product, and signage applications. With the logo project for the Natchitoches Christmas Festival, it was clear that all of the factors mentioned earlier would be highly relevant.
I have a personal love for the city of Natchitoches. I went directly to my own memory of my first experience of the Christmas lighting of the Cane River at Front Street for my inspiration. It was 26 years ago, long before I had really seen photos of the Natchitoches Christmas Festival. Up to that point, I had only heard how lovely the city was. Many friends had spoken of the Christmas Festival, and the light reflected on the Cane River.
I recall that cold evening, the lifting residual haze from the fireworks illuminated like an enchanted fog by thousands of colored bulbs, each doubled by the moving mirror of the river. While the fireworks show was legendary in scale, it was the quiet splendor of the lighted riverfront displays that brought on a chorus of audible gasps from the festival-goers. It was a moment of awe and joy that made a claim in my heart. I wondered if we could create a Natchitoches Christmas Festival logo that might harken back to that precious moment, so that's where our design research began.
We collected various images from the City of Lights, focusing on the illuminated displays along the river. We keyed in on specific details that clearly represent the particular place and season while still providing universal appeal. The particular colors in these displays had a heavy influence over the palette ultimately selected for the full-color logo design.
As crucial as the riverfront displays are, it was vital that we also create something that would evoke overall Christmas cheer. The design should be indicative of the infamous Christmas Festival fireworks displays while also paying homage to the historic foundation of the centuries-old city. We looked at something personal and close to our family's Christmas lineage to bring these elements together.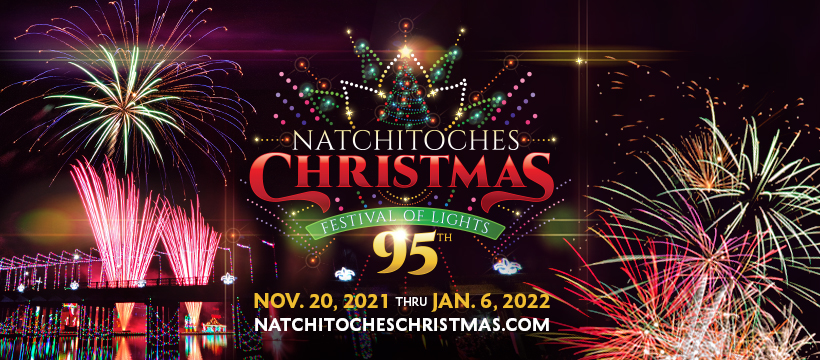 Each year at Christmas, my wife and I pull out a special box that contains several antique family Christmas ornaments. Each was meticulously beaded by her beloved grandmother, and we treat them with tender care. The decorations call back to a different time, space, and pace that Natchitoches seems uniquely suited to capture. We went directly to these ornaments with their lovely beadwork for inspiration as we started this design project. If you look closely, you will see that heirloom sensibility throughout the new logo design, particularly when it is displayed in bright white on red or green backgrounds.
Once all our guiding design decisions had been made, we started the project with simple sketches. These ultimately translated into white beadwork—albeit digital—on a dark background, simulating the stippled ornaments of years past. As the logo design started to take shape, color was added. Not unlike the incandescent displays that have been drawing visitors to Natchitoches, Louisiana for 95 years, it was clear the logo should stand the test of time, whether it was presented in single tones or vivid color.
In this new logo design for the Natchitoches Christmas Festival of Lights, we see a glimmer of everything we love about the city of Natchitoches and its pinnacle event. It reminds of the unique Natchitoches charm, witnessed in a soft, kaleidoscopic Christmas glow on the bricks of Front Street. It smacks of colorful, warm, ornamental icing on fresh sugar cookies and treats. It draws on our memories of hanging cherished, vintage ornaments on the branches of our own Christmas trees with our beloved family. It widens our eyes in anticipation of fiery streamers flying heavenward to release a popping pyrotechnic painting in the cool night sky. Most of all, it clues us into the historical story of Natchitoches, Louisiana. It is a logo that is an invitation to be joyous and happy during the holiday season, encouraging travelers to be merry, to explore, and to make an annual trip to the Natchitoches Christmas Festival of Lights a part of their personal history.
-Oran Parker, Parker Brand Creative Services
---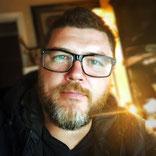 Oran Parker, Brand Builder
Parker Brand Creative Services
- - - - - - 
Oran Parker is the owner and chief brand builder at Parker Brand Creative Services, an award winning Louisiana branding team that has been the creative lead behind hundreds of successful branding initiatives. Oran is also the producer and host of the podcast Find the Good News, a show focused on good people doing good works wherever he can find them.