I recently gave a presentation to a potential client and they asked that I cover much of our young brand's history. Putting our brand story into a formal presentation gave me some time to take pause and reflect on our origin, where we've been and where we're going. Whether our Southwest Louisiana advertising agency signs this client or not, I have found great value in the revisiting our story. It has reminded, yet again, that my wife and I are building something special, and that the methods by which we operate are unique because of the creative partnership that we have with each other.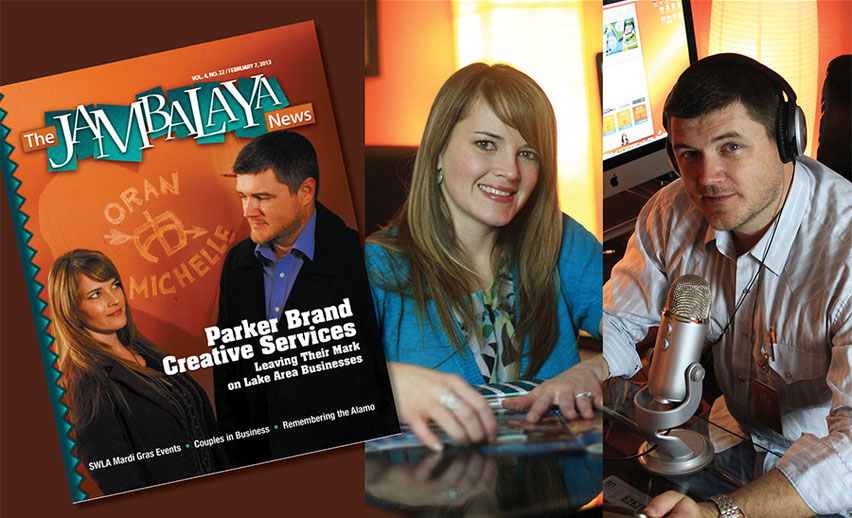 You see, there's a reason we call Parker Brand clients "creative partners." That name has its roots in my creative process, going back to my conviction that creativity—even the process of creating—should be shared. Working in a void has value. It makes you a stronger creative, evolving your creative strengths and skills in ways that you might never have imagined, but working with a creative partner can push your further and help you reach plateaus that were perhaps unreachable on your own.

My formative years as a professional creative were spent working alone at my sign company, years before I hired my first employees to assit with production. My earliest clients trusted me as an individual, and all of the creative work, including the initial brainstorming, project management and production was handled by me alone. From the initial meeting, into the concept, through the design and production, I was the sole driving force. I learned a lot in these early years, and I didn't depend on an advisor, manager or director to get me or my clients through. Experience was my best mentor, and it still is.

As valuable as those years of being dependent on my own steam were, my next evolution as a professional creative came when I met my wife and creative partner at Whitbeck Advertising. Michelle Parker (then Michelle Bruney) was the senior designer at the Whitbeck agency, and we were often left to our own devices, creating the plan, the timeline, and the design concepts together. Our work, I found, was better because of our individual strengths and many of the creative methods that we use today were formed during that partnership.
As luck would have it, Michelle and I ended up being fast friends as well, and ultimately our creative teamwork evolved into a life partnership that holds more value to me than I can express. As my creative partner, Michelle made me smarter and showed me that we could accomplish more together than we could separately. As my wife, Michelle has taught me that I could be the person I wanted to be instead of who I was taught to be, and that simple lesson has affected our creative methods as well.

While I still spend much time alone meditating on my clients creative projects, it is when Michelle and I enter into a creative discussion that the ideas and strategies truly bloom into something special. Yes; being a lone creative is of great value, and I wouldn't trade my individual experiences for anything. That being said, I also wouldn't return to those early days without a creative partner like Michelle.

It's this creative synergy that we give our clients when they choose to partner with Parker Brand. Businesses can most certainly move forward without a creative partner or advertising agency, but there really is so much more to explore, so much more that can be done when you have a creative partner that brings the combined experience of their team to the table. Just as Michelle and I know that we have each others best interest at heart, our clients—our creative partners—know that we are devoted to their brands in the same way. We put our unique passion for creativity to work for their brands, and as time moves forward they see the fruits of our labor.

Perhaps you have a business or brand that is working in a void, and perhaps you've had your had your own success. When you partner with a talented and experienced creative team there is more success to be had. I would invite you to contact Michelle or I and find out what it is to develop a partnership with a creative team that is devoted your brand's success.

To learn more about what we do at Parker Brand Creative Services, visit www.parkerbrandcreative.com. If you like what you see and still have more questions then send us a quick message and schedule an appointment. We'd be glad to speak with you, and perhaps we can get your brand up together.