There is no shortage of education opportunities in Southwest, Louisiana, and Delta Tech wants to make sure you know about everything that's available to you through their training programs. To do this, Delta Tech has enlisted the help of Parker Brand Creative Services, a Sulphur, Louisiana advertising agency that serves the gulf coast region from from southeast Texas to the eastern-most border of Louisiana.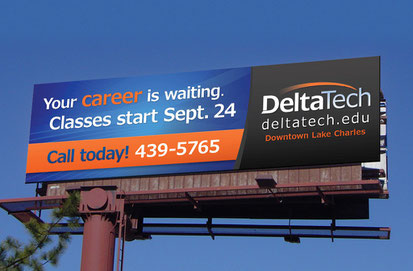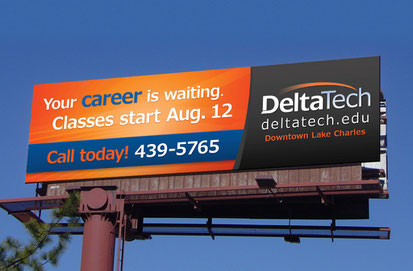 "With any client, our first goal is to assess the brand," says Parker Brand owner and director Oran Parker. "We look at everything that's come before our involvement, see what we can do visually to tidy things up and bring the brand's graphics set together. Once we've got a solid pool of graphic elements to work with, we develop our concepts and strategy, then start to make things work for the brand—color signals, logo, typeface, visual echoes, audio—these all have to fall in line for us to create a successful branding campaign."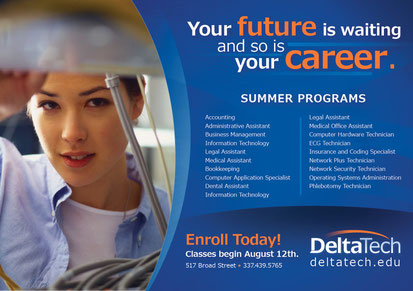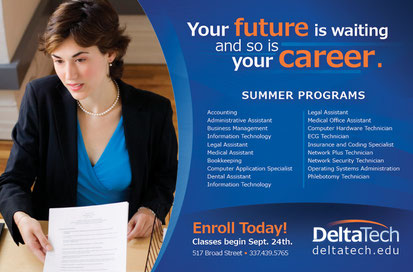 Aside from these aspects of brand building, Parker Brand Creative Services makes sure that the message is clear and going out to the intended audience. "We use all of the tools available to us in the market," says Parker Brand's co-owner and art director Michelle Parker. "We have years of successful branding and advertising campaigns behind us. Whether we're using print advertising, outdoor (billboards), radio, or television, our media get out there and gets the job done."
And speaking of televison & video production, the advertising team at Parker Brand Creative Services brings their progressive storytelling style to each project. "Boring video & television isn't going to cut it," says Chad Blankenbaker, Parker Brand's senior designer and video production assistant. "We're building strong local brands in southwest Louisiana and to do that you have to tell a story. People need to know who you—as a brand, a culture—and what you're all about. Our video production service does that by implementing our marketing pyramid. First, we tell the story. Second, we develop the message. Third, we bring the two together and that's where the magic happens. What you get is a method of bringing the brand to life in a way this is not flat; it's very human and approachable. At the same time, we can still promote products and services without adding to advertising congestion. It works and we're following this method to the letter with our ongoing efforts for Delta Tech."
"The Delta Tech campaign is a good example of solid advertising that is getting results," says Oran. "From traditional advertising to new media methods, our tracking shows that awareness about Delta Tech has increased in the Lake Charles market. To use an old saying, the phone is ringing, and that's what most local businesses want; more awareness, more customers."
---